Bull-Lane Lil' Abner I Boy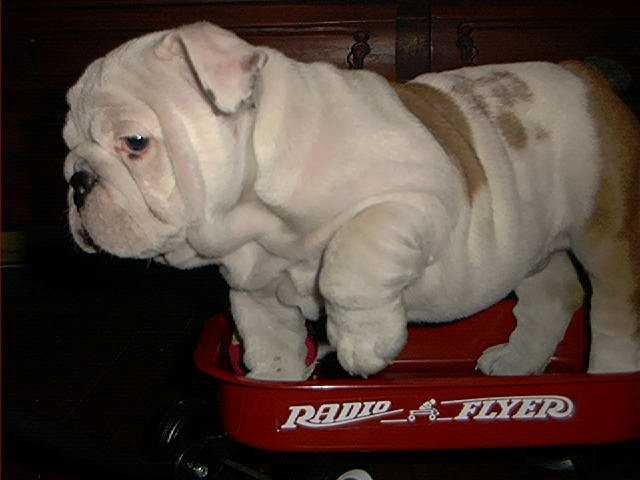 Champion!
---
Lane is very intelligent, laid-back and just a joy to be with. Balance and sound movement are among his best qualities. We are very proud of his accomplishment at such a young age.
Available puppies on occasion. Stud service to approved Bitches.
Contact: Owner:Elisa Marchiori
Mychoicebulldogs@aol.com
Phone: 210-522-0322 or 210-386-5268
Contact:Co-Owner/Breeder:Lane Stroud
Bull-Lane Bulldogs
Lanestroud@webtv.net
Phone: 501-944-5794
---
Below is an outline of Lane's show career:

2/23 - Brazoria Kennel Club - Houston- Judge: Karen J. Clausing-6 mo. class-#1
2/24- Brazoria Kennel Club - Houston - JudgeCarolyn A. Herbel - 6 mo class-#1/R

3/02-Faith Kennel Club- Wichita Falls,TX-Judge: Edd Embry Bevin - 6 mo class-#2nd
3/03-Faith Kennel Club-Wichita Falls, Judge: Dr.Roger S. Pritchard -1/W/BB/BW
---
3/7-Kennel Club of Greater Victoria-SA,TX-Kenneth A. Buxton-6mo.-#1/R
3/8-Comal County Kennel Club-San Antonio - Betty R. Leininger -# 1/R
3/9-San Antonio Kennel Club-SA,TX- Dr. Glenn T. Fancy- 6 mo class-#1/W/BW
---
3/10-San Antonio Kennel Club- Mr. Eugene Blake- 6 mo class-#1/W/BW
---
3/16-Houston Kennel Club-Houston,TX-Joe C. Walton- 6mo class-#1/W
---
3/17-Galveston Kennel Club-Houston, TX - Jacklyn E. Hungerland-#1 6 -9 month

3/30- Brazos Valley KC-Bryan, TX-Edd Embry Bevin-6 mo-#1/R
3/31-Brazos Valley Kennel Club-Bryan, TX-Dred C. Bassett - 6mo-#1

4/6-San Jacinto KC-Crosby, TX-Betsey Leedy-#1
4/7- San Jacinto KC- Crosby, Tx- Wanda Spediacci-#1

4/20-Bee Texas KC- Beeville, TX- Dorothy Nickles- #1/W/BB/BW
4/21-Bee Texas KC-Beeville, TX - Mildred K. Bryant - #1/W/BB/BW
(No Pictures)
---
05/09-New Mexico Combined Specialty-Albuquerque-Waye\ne H. Brower-Open Class-#1/W/BW
---
6/7- Lake Charles - BB
---
5-13-02-Best of Opposite sex
Thank you, Judge Dennis M. MC Coy
---
7-20-02 Best of Breed Beaumont KC
Thank You, Judge M Jean Lade
---
8-3-02 Award of Merit Mississippi Coast Kennel Club
Thank You, Judge Peggy Dillard Carr
---
9-29-02 Hot Springs Arkansas - Best of Breed
Thank You, Judge Helen Lee James
First breed win that he was handled by breeder and Co-owner Lane Stroud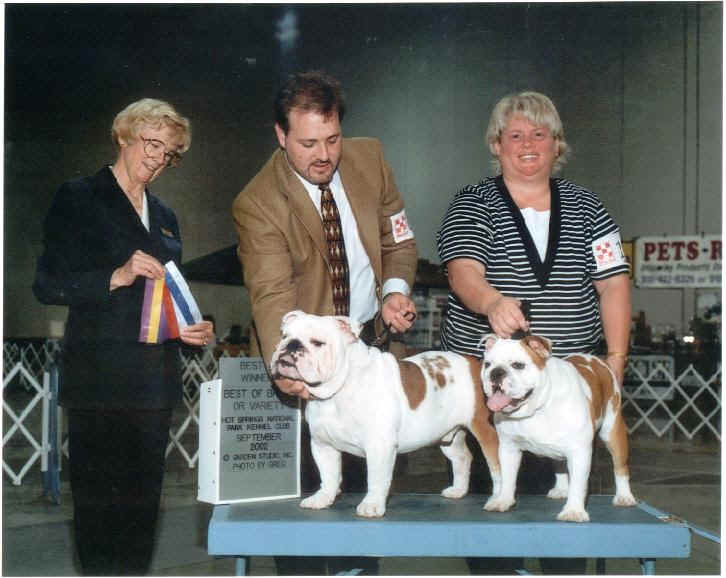 9-29-02
Was very proud to have our picture made with good friend Dee Moore the
day we took Breed at Hot Springs Arkansas. This is Lane's half-sister, also out
of Ch. Dingman's Badger Redman, Taggart's Isn't She Divine : Best of
winners and best of Opposite.
---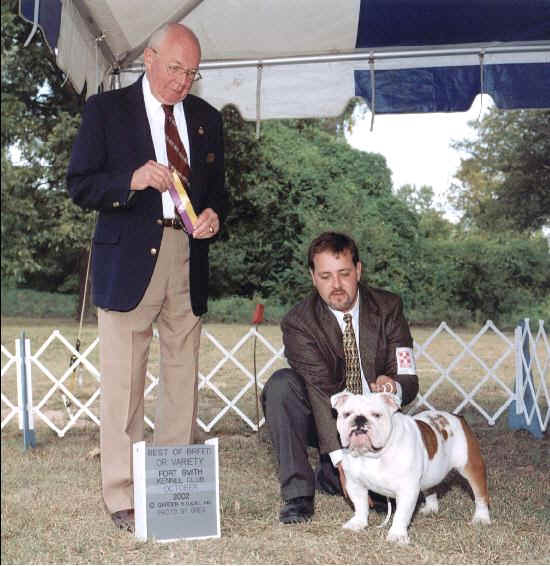 10-9-02 Fort Smith Arkansas - Best of Breed
Thank you, Judge Dr. David Green Doane
---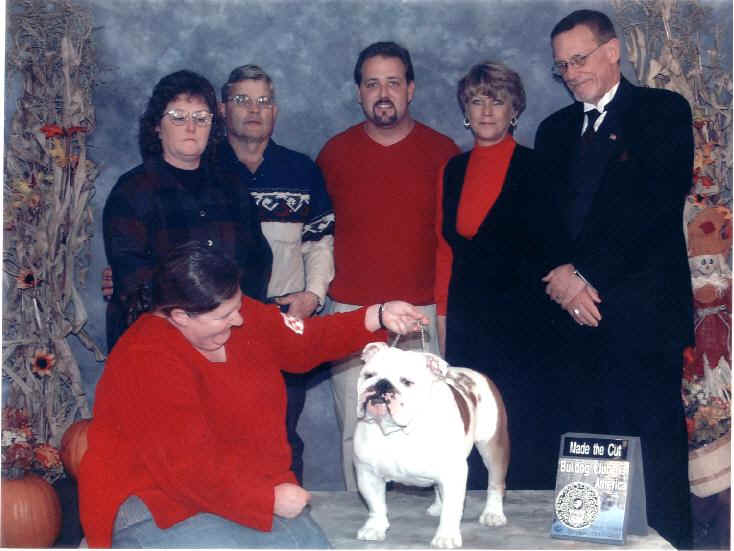 10-17-2002
Lane made the final cut at BCA Nationals.
---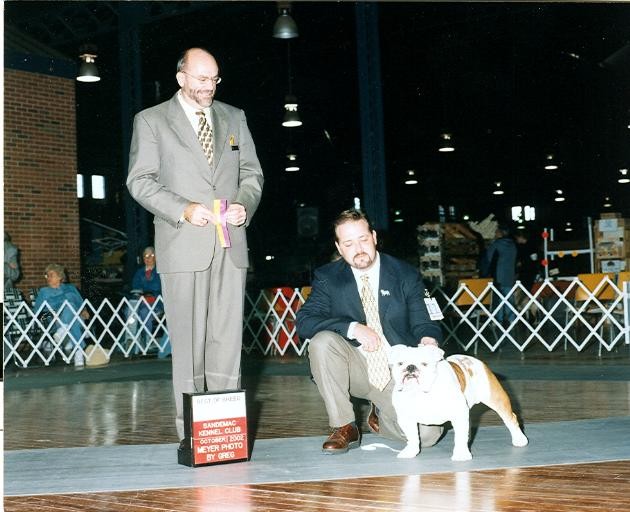 10-19-2002 Springfield ILL. Best of Breed
Thank you Judge Michael J. Dachel.
---
Lane is the second Champion under his Father, Champion Dingman's Badger Redman. A special Thanks goes to Dean & Pam Altic of CountryBull Bulldogs, Badger's owners, for allowing me to do this breeding. Also thanks Dean and Pam for following Lane's show career with great interest and sharing in the thrill of the wins with me.
---
Lane's Dam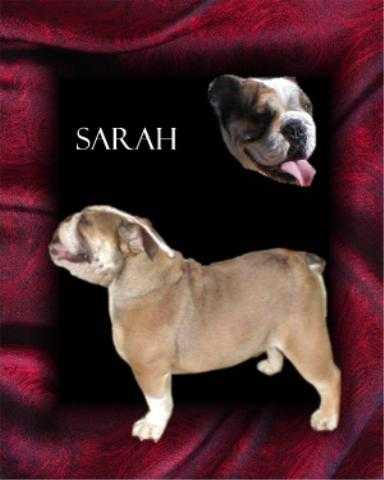 Sarah
(click on Sarah to go to her webpage)
---
Lane's Sire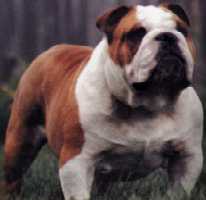 Ch. Dingman's Badger Redman
(Owned by Dean & Pam Altic of Country Bulls Bulldogs)
---
Puppies Sired by
Ch. Bull-Lane Lil' Abner I Boy

---